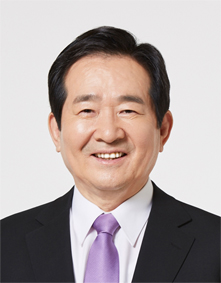 To my fellow Koreans,
To my fellow Koreans,
Thank you for visiting the Office for Government Policy Coordination and
Prime Minister's Secretariat.
As Prime Minister charged with the duty of writing a new chapter of peace and
prosperity for the next 100 years in the Republic of Korea,
I will do my best for our government to be reborn as one that will be a source of strength for the people.
I will take a stance that is a bit closer to the people and humbler. I will be there for the laughter and sorrow.
I will reach beyond the realm of public office and run my administration with good communication by directly listening to your opinions in person.
I hope that this homepage can become a place where I can listen closely to all of your important opinions.
I look forward to much interest and participation.
Thank you.

Prime Minister Chung Sye-kyun