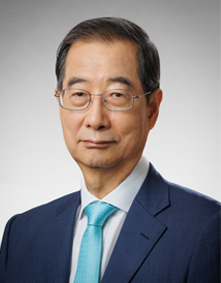 To my fellow Koreans,
I am Han Duck-soo, the 48th Prime Minister of Korea.
Welcome to the Office for Government Policy Coordination, Prime Minister's Secretariat.
Prime Minister Han Duck-soo

As the first Prime Minister of the Yoon Suk-yeol government, I promise you the following.
A country where the principles of common sense and fairness stand upright;
A country where the dynamics of the private sector, market, and businesses are alive;
A country where the happiness of the people rises day after day from the warmth of growth spreading evenly;
A country where the metropolitan and regional areas thrive together;
A country that contributes to the peace and prosperity of the international community while leading the era of great transformation.
Using the experiences and capabilities I have accumulated throughout my life, I will devote myself to overcome the current challenges and crises. I will do my best to realize the spirit of the times and implement the national vision.
I will endeavor to be remembered as the Prime Minister who created a 'government where public officials work well through creativity and innovation.'
I ask your support of the new Yoon Suk-yeol government for it to succeed in building a 'New Country of the People.'
Thank you.